How to Participate in the Kellogg's $5.00 Prepaid Gas Card.
SHOP Buy two specially-marked boxes of Kellogg's cereal on one receipt between February 20, 2020 and May 30, 2020.
TAKE A PICTURE AND UPLOAD Snap a photo of your receipt showing two qualifying purchases and follow the instructions on www.kelloggsgascash.ca to upload your receipt for validation before 11:59:59 ET p.m. on June 13th, 2020.
VALIDATION EMAIL Receive a validation email with a unique link to register for your $5 Kellogg's* Gas Prepaid Card.
REGISTER AND REDEEM Once the unique link is selected, complete the registration form so we know where to send your Kellogg's Gas Prepaid Card. Confirmation of your Kellogg's Gas Prepaid Card will be sent by email so be sure to check your inbox, spam or junk folders.
Visit Kellogg's Gas Cash for more information and to find out about participating products.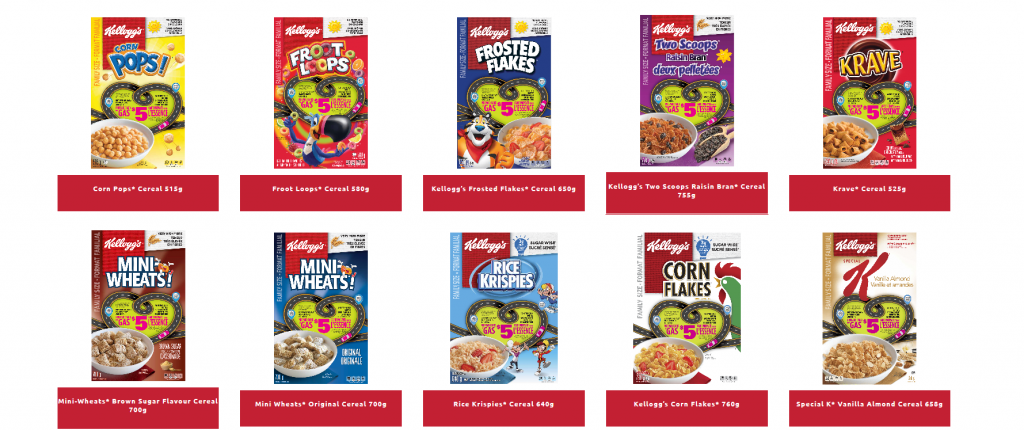 And if you haven't already make sure to Join webSaver.ca today and get coupons to save you and your family money on groceries. Many webSavers save upwards of $600.00 per year or more with webSaver.ca coupons, deals, discounts and special offers.

webSaver.ca is Canada's largest and most trusted online coupons website because we help people save money. Get all the latest information on the best coupons, contests, discounts, freebies, giveaways, money saving tips and much more.