We love Campbell's Soups, Condensed Soups and Creams and all Campbell's products. And now you can Save $0.50 on Campbell's® condensed cream of cauliflower when you buy 1 of any Campbell's® condensed soup.
Get your Save $0.50 on Campbell's® condensed cream of cauliflower coupon now!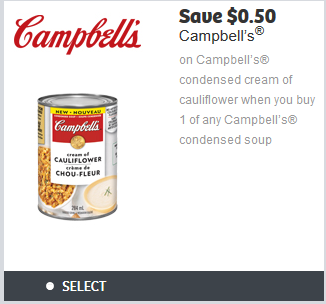 Campbell's Condensed Cream of Cauliflower
Campbell's® Condensed Cream of Cauliflower Soup is a versatile soup that's delicious in a bowl or as an inspiration for easy weeknight dishes! Made with real cauliflower and cream, it contains no artificial colours or flavours.
Join webSaver.ca and Save!
And if you haven't already make sure to Join webSaver.ca today and get coupons to save you and your family money on groceries. Many webSavers save upwards of $600.00 per year or more with webSaver.ca coupons, deals, discounts and special offers.

webSaver.ca is Canada's largest and most trusted online coupons website because we help people save money. Get all the latest information on the best coupons, contests, discounts, freebies, giveaways, money saving tips and much more.
About Campbell's Canada
Campbell has been a welcome guest in Canadian kitchens since 1930 and today they're as committed as ever to providing Canadian families with the simple and affordable food and meal solutions they are looking for.
Campbell's seeks to ensure that there are nutritious choices across their family of products, like reduced sodium, more servings of vegetables and whole grains. They also want to help  Canadians prepare better meals through easy, affordable recipes.